I was scrolling through my gallery, trying to free the space on my phone by clearing out a few pictures and videos when I stumbled upon a few photos from my 3-day trip to Patna. 
It was a walk down memory lane, recollecting the experience I had at the ancient city sprawled along the south bank of the Ganges river in Bihar.
I had just finished conducting a class on Ancestral Healing and realizing I had time to spend, I'd started a conversation with my students about the enticing cuisine and culture of Patna. 
During the conversation, we'd come across the topic of a "Shakti Peetha," confused, I'd asked them what that was.
Taking turns, they explained.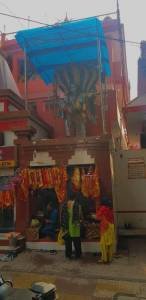 "The Shakti Peetha is significant shrines and pilgrimage destinations in Shaktism, a goddess-focused Hindu tradition," My students started, further giving me an insight on the legend behind the Shakti Peethas. "The legends behind the Shakti Peethas are based on the story of the death of the Hindu goddess Sati. Out of grief and sorrow, Shiva carried Sati's body, reminiscing about their moments as a couple, and roamed around the universe with it. Vishnu had cut her body into 51 body parts, using his Sudarshana Chakra, which fell on Earth to become sacred sites where all the people can pay homage to the Goddess." They said, leaving me extremely interested. Uncanny thoughts started filling my head. If the temple was as old as it was said to be, would my ancestors also have visited it? 
After the conversation, I'd decided. I was going to visit one of the Shakti Peethas, the Patan Devi, one of Patna's oldest and most sacred temples.
Arriving at the temple, I noticed a lot of things. The temple was crowded and the atmosphere was dense and heavy. People poured in from all directions, offering milk and other items. The heavy fragrance of incense spread around and the ringing of bells could be heard in all parts of the temple. Chanting of mantras by the priests surrounded all corners. I remember standing there, feeling highly blessed to be able to experience the holiness of the place.
This experience truly made my trip to Patna an eventful one.